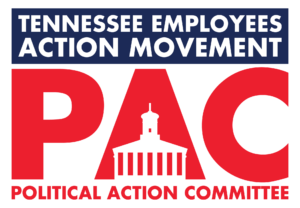 The Tennessee Employees Action Movement (TEAM-PAC) is the political action committee of the Tennessee State Employees Association. Working to elect candidates who support state employees is the primary goal of TEAM-PAC.
TEAM- PAC is solely funded by active and retired state employees in Tennessee. That means when our PAC makes an endorsement and commits funds or resources to a campaign, every dollar of those funds and resources came directly from the pockets of active and retired Tennessee state employees.
To view our most recent Legislative Endorsements, click here.